SAM CHURCH PLASTERING
Norwich, Norfolk & Suffolk
Your Local Plasterer
ALL ASPECTS OF PLASTERING WORK CARRIED OUT
APPROVED K REND APPLICATOR
ALL ASPECTS OF RENDERING WORK CARRIED OUT
S.C PLASTERING IS A LOCAL PLASTREING COMPANY BASED IN NORWICH, NORFOLK.
S.C PLASTERING CARRYS OUT PLASTERING & RENDERING WORK THROUGH OUT NORWICH, NORFOLK & SUFFOLK.
WE CARRY OUT ALL ASPECTS OF PLASTERING WORK WHETHER IT BE RE-SKIMS ON A SINGLE WALL OR CEILING TO LARGE NEW BUILDS NO JOB TO BIG OR SMALL.
WE PRIDE OURSELFS ON BEING HONEST HARD WORKING AND PROFESSIONAL AT ALL TIMES.
SAM AND HIS FAMILY ARE LOCAL TO NORWICH SO HE PRIDES HIMSELF ON KEEPING HIS NAME AND COMPANY AT THE TOP OF THIER GAME TO WITHHOLD HIS PLASTERING REPUTATION THROUGH OUT NORFOLK & SUFFOLK
S.C PLASTERING HAS MANY WORKING RELATIONSHIPS THROUGHOUT NORWICH, NORFOLK & SUFFOLK WITH BUILDERS, PROPEERTY INVESTERS & DEVELOPERS AND MANY OTHER LOCAL BUSINESS'
S.C PLASTERING HAS WORKED ON NUMEROUS PROJECTS FROM OLD CHURCHES USING TRADITIONAL LIME SAND HORSE HAIR MIXS TO THE MODERN-DAY K-REND PRODUCTS.
S.C PLASTERING CARRIES OUT TRADITIONAL LIME PLASTERING AND REPAIR WORKS ON LATHS, CLAY LUMP, STONE & MUCH MORE THROUGHOUT NORWICH NORFOLK & SUFFOLK.
S.C PLASTERING CARRIES OUT MODERN FINE COAT PLASTERS TODATE.
ABOUT SAM CHURCH
Sam started of working and helping out his local builders when he was about 13 years old, he worked on his weekends and school holidays either working in a boat building yard on Southwold harbour or with his friend at his dads building company in Reydon (Cooper & Denys Ltd). Sam then left school early to start working full time at Cooper & Deny Ltd where he started working and learning the trades of carpentry, bricklaying & plastering. Sam worked for about a 2 years before he was then offered to start his apprenticeship. Sam then decided to join the Royal Marine Commandos. Sam served for 8 years in the Marines before retraining as a professional Plasterer and Locksmith. In his time in the Marines Sam carried on using his skills he had learnt in the building trade on refurbishing houses in his spare time.
Since leaving the Marines Sam has set up working as a local plasterer. Sam is a City & Guilds level 1 qualified Plasterer. Sam has also been working and perfected his building skills and knowledge whilst working alongside his father who has been in the building trade for 15 years. (web construction based in Walberswick Suffolk). Sam also carries out Property refurbishment and lots of other building works.
Sam older Brother is also a member of the building trade, He runs a successful Plumbing and gas/oil heating company (Bob Church Plumbing)
Sam is now looking into the future as he works hard towards achiving his goal of est & running his own building company.
Sam Church Plastering through out Norfolk & Suffolk
PRODUCTS & SERVICES
PLASTERING

K REND

TRADITIONAL RENDERING

DRYLINING WALL

DRYLINING PARTITIONS

COVING
PLASTERING SERVICE NORWICH
PLASTERING SERVICE NORFOLK
RENDERING NORFOLK
K REND NORWICH
K REND NORFOLK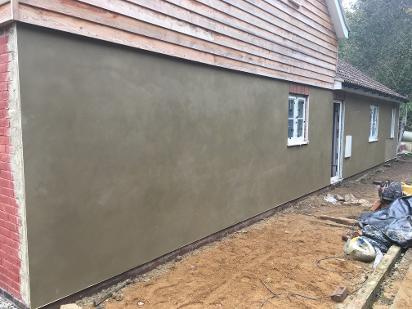 PLASTERING
S.C PLASTERING HAVE A HIGHLY PROFESSIONAL AND EXPERIENCED TEAM OF TRADESMEN.
OUR TECHNIQUE INCLUDE
PRE MIXED PLASTERS
USE OF PRE MIXED BACKING COAT PLASTERS
SKIM FINISH PLASTER ON PLASTERBOARD
TRADITIONAL SAND & CEMENT RENDER WITH SKIM COAT FINISH
INTERNAL & EXTERNAL RENDERING
RE-SKIM OVER OLD BACKGROUNDS USING PVA & PLASPRIME
FLATTERNING ARTEX USING BONDING AND SKIM FINISH
JOINT & TAPE FINISH ON PLASTERBOARD
SPRAY FINISH PLASTER
SPRAY RENDER SYSTEMS
EXTERNAL WALL INSULATION
K REND RENDER
S.C PLASTERING ARE K REND APPROVED APPLICATORS WIITH EXPERIENCED TRADESMEN.
USING K REND FT COLOURED THROUGH RENDERS & SILOCONE THIN COAT RENDERS.
APPLYING BASECOAT RENDERS
USING REINFORCING MESH FOR K REND
USING PVC BEADS OR STAINLESS STEEL BEADS
EXTERNAL WALL INSULATION SYSTEMS
SPRAY APPLICATION
TRADITIONAL RENDERING
S.C PLASTERING ARE VERY EXPERIENCED IN TRADITIONAL AND LIME RENDERING.
SAND CEMENT RENDERING DECORATIVE FINISH
LIME RENDERING DECORATIVE FINISH
INTERNAL & EXTERNAL RENDERING
PRE MIXED RENDER
DRYLINING WALL
WE COVER THE FULL RANGE OF WALL LINING TECH THAT ARE USED IN ALL TYPES OF BUILDING PROJECTS IN BOTH DOMESTIC & COMMERCIAL
DOT N DAB PLASTERBOARDING TO BLOCKWORK
GYPLNER METAL FRAME STUD PARTITIONING SYSTEM
TIMBER STUD FRAME
DRYLINING PARTITION
TACK ALL TYPES OF PLASTERBOARD TO TIMBER STUD PARTITION
STANDRAD METAL STUD PARTITION
ALL PARTITONS CAN BE SKIM OR TAPE & JOINTED FINISH
COVING
COVING DECORATIVE FINISH AROUND WALL CEILING EDGE OF ROOM